Ain't Nobody Got TIME For That
There is one main issue we hear from everyone about their social media. Do you know what it is? TIME. Who has the time to maintain social media? How much time should you be spending on social media? When is the best time to do your social media? How many times a day? How many times a week?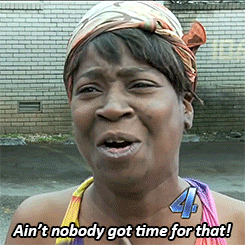 So. Much. Time.
It's no coincidence that the predominate pain point we address for our clients is taking on the time commitment necessary to fully maintain their social media. We work with business owners who are busy being CEO, COO, CFO, CIO and lots of other roles for their own company. Who can expect them to be a master at social media too? Well, we agree. And, welcome to why POLISHED. Media Management exists. You should be really great at what you do in your organization, and not necessarily really great at social media for your organization. That's why we're here to do it for you. Saving everyone time in the end.
Really, how much time is actually necessary to maintain your social presence? The algorithms* of almost all social platforms are dependent on how frequently you interact with their platform and, more specifically, what you interact with on their platform. The more often you engage the better, and the stronger your newsfeed will be with content curated to your specific interests. The number of times a company is posting to social media can impact their presence and engagement as well. To give you an idea, it's recommended: 3-5X per week for Facebook, 7-10X per day for Twitter, 2-3X per week for LinkedIn, and 1-2X per day for Instagram. Do you have time for that? That's what we thought…
What about the timing of your posts to social channels? Each social channel addresses and serves different demographics through different platforms. Therefore, they can't all be the same for peak content sharing times. This makes scheduling your content on each channel important. Facebook's peak engagement time is in the early afternoon with a concentration on Wednesdays, and LinkedIn's is in the early evening Tuesdays-Thursdays. Consider who you are talking to, and through which platform, to schedule your content for the best times.
If you have any questions about social media, or are ready to take the time commitment off your plate, give us a call! We can't wait to hear from you.
*Not clear on what an algorithm in social media is? Learn more here.
Follow up reading: How Often To Post On Social Media? [Proven Research From 14 Studies]